Press Release:
World Hunger Day, October 16, 2019
The United Nation's Food and Agricultural Organization (FAO) is celebrating the World Food Day on October 16, 2019 as "Healthy Diets for a Zero Hunger World." It is unfortunate that it seems to have slipped FAO's notice that the very people who produce food for the whole world are facing hunger and are very far from 'healthy diets; and so more appropriately have marked this day as the " World Hunger Day" to protest their grim, hunger-drivenreality. This is a dark fact faced by millions of households around the world especially in the third world countries, particularly in the rural areas. It is in this context that the Asian Peasant Coalition (APC) and its members since 2012, has marked October 16 as the World Hunger Day. Pakistan Kissan Mazdoor Tehreek (PKMT) and Roots for Equity joined hand with APC in marking World Hunger Day and organized a Peasant Assembly and staged a demonstration in Khairpur, Sindh on October, 16, 2019.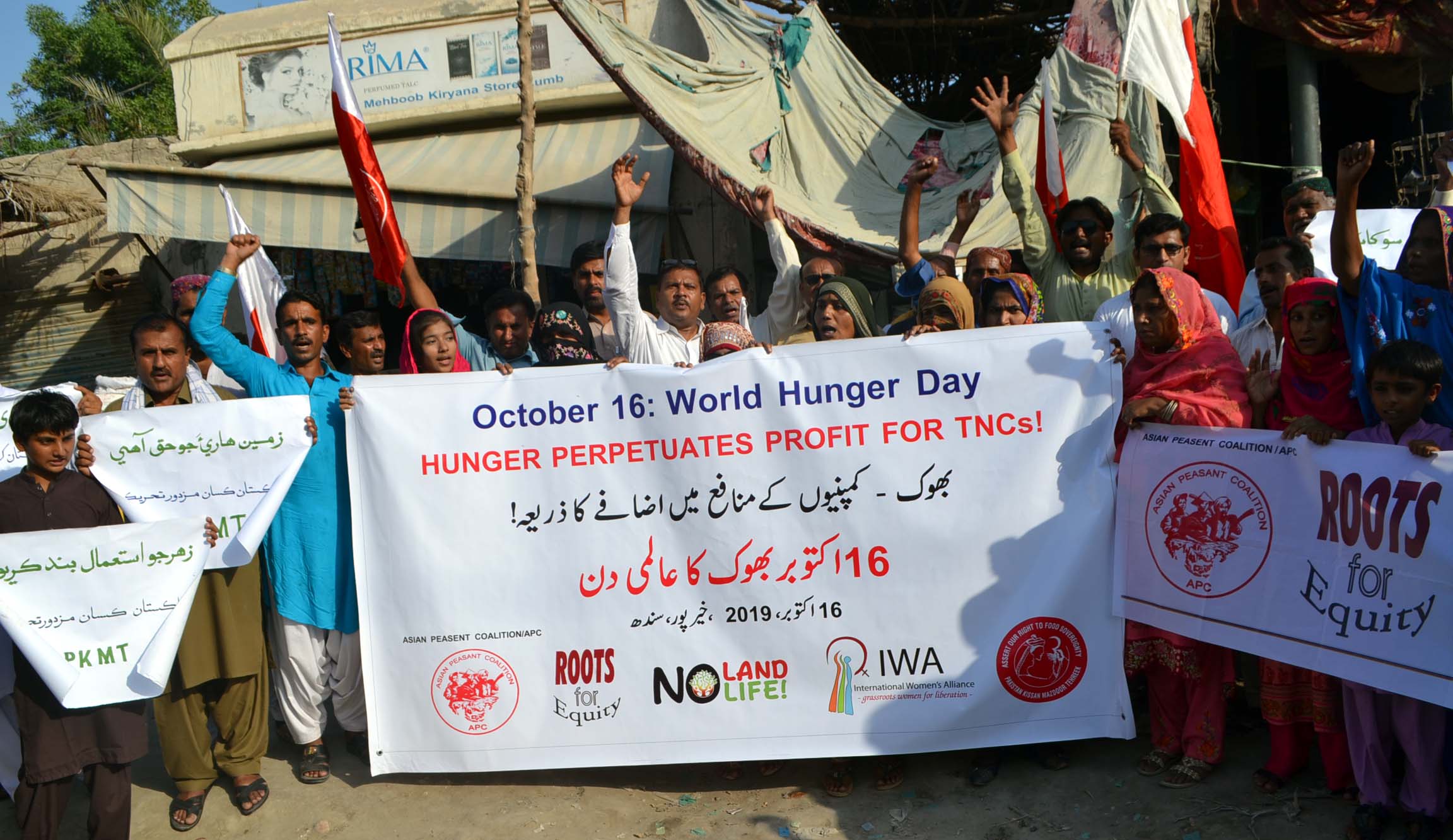 According to the FAO 2019 the State of Food Security and Nutrition in the World more than 820 million people in the world are still hungry today. And even worse, more than 2 billion people do not have access to safe, nutritious and sufficient food. It need not be said that in every continent women suffer more than men from food insecurity. Nearly half a billion hungry people live in Asia, of which a majority are in South Asian countries; it is in South Asia that prevalence of undernourishment at 15% remains the highest. In Pakistan, the Global Hunger Index 2018 ranks Pakistan at 106 out of 119. According to World Food Program (WFP), 60 percent of the population still faces food insecurity, 15 percent of under-five years of age children suffer from acute malnutrition, which is considered to be the second highest rate in the region. Close to 44 percent of children in the same age group are stunted, 32 percent are underweight.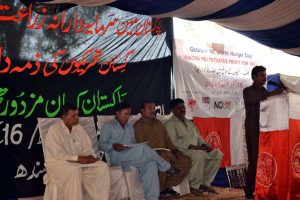 Hunger today is less about the lack of food and more due to the structural issues embedded in the production system. Vast inequalities stem from the fact that concentration of land in the hands of feudal and big landlords remains while a very big majority remains landlessness. According to the World Bank only 2% of the farm household control 45%, while the remaining 98% control only 55% of total agricultural land in Pakistan. At one hand the rural communities, especially the landless farmers are highly dependent on natural resources for their livelihood and on the other hand the neoliberal framework has accelerated the commoditization of nature which include seed, water and other productive resources, with a massive attack on community rights to natural resources, large-scale exploitation and destruction of biodiversity for TNCs unending unhealthy appetite for profits.
Climate crisis -driven by transnational corporations unsustainable fossil fuel-based industrial production and unrelenting exploitation of natural resource- has devastated for rural communities of Pakistan particularly small and landless farmers. The severe heat wave and untimely rains and storm have consistently resulted in massive crop loss and irregular production across the country. Farmers across the country are reporting loss in harvest; for example tomato crop in Khyber Pakhtunkwa, maize in Punjab, rice and cotton in Sindh have all suffered, and farmers are facing a huge financial crisis and with no remedy being discussed by the government. Farmers also report that imported hybrid rice seed by many multinational companies are even not giving production, which has been used to plant nearly 75% area under rice cultivation in Sindh.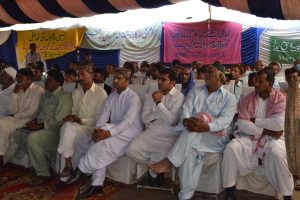 Thousands of agricultural labor particularly landless women who are the main sector responsible for harvesting rice and cotton have lost a very important part of meager income as harvest in these two crops has gone down drastically. There is now further migration of rural communities flooding cities living in inhumane conditions; there is no doubt that the further impoverishment of a very vulnerable marginalized sector is at the hands of these mega-seeds corporations.
The immense control over agriculture and food production in the hands of the grotesque transnational agro chemical companies is the most critical major reason for rising hunger not only in Pakistan, but Asia and globally.
As an immediate measure it is imperative that the government must compensate farmers suffering from climate crisis and industrial agricultural practices. At the same time it is of course clear that dismantling monopoly control over food, land and market by capitalist corporations is the only feasible response to overcoming rising hunger and malnutrition in our country and the world over. The response of course has to be upholding food sovereignty, which is based in just and equitable distribution of land. The right to development of people and communities everywhere is based in implement genuine agrarian reform; and promote agro ecological systems as the sustainable and healthier systems of food production based on agro-ecological principles.
PKMT leaders, Ali Nawaz Jalbani, Pathani, Ghulam Jafar, Raja Mujeeb, Hakim Gul, Mohammad Sharif, Ali Gul, Noor Ahmed, Mohammad Azim, Wali Haider, and others were Spoken to the assembly.
Released by: Pakistan Kissan Mazdoor Tehreek (PKMT) and Roots for Equity