Press Release
August 15, 2019
Pakistan Kissan Mazdoor Tehreek, Sojhla for Social Change, Roots for Equity and other civil society groups held a protest to mark India's Day of Independence as a Black Day to show their solidarity with the people of Indian Occupied Kashmir, in front of the Multan Press Club.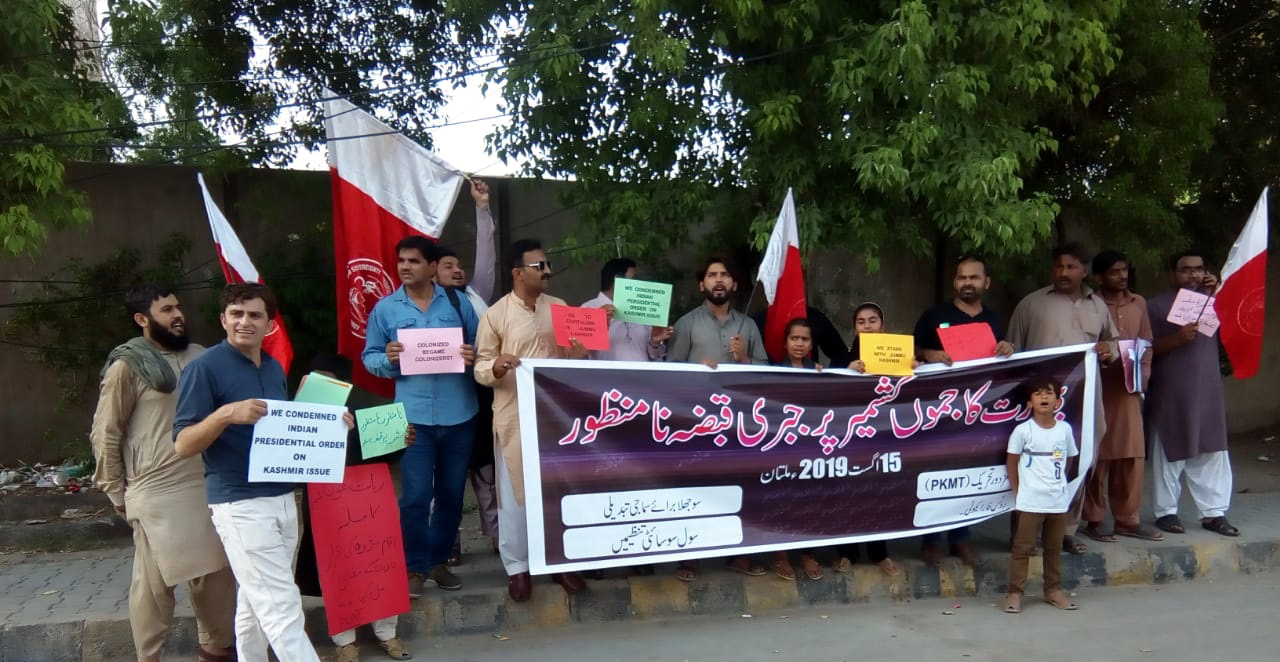 Today about eight million Kashmiris under Indian Occupation face torture, incarceration, and brutal suppression of all their political and human rights, including, very fundamentally, the right to life and liberty. Though Kashmiris have faced repression, violence amounting to crimes against humanity, watering down of their constitutional guarantees for more than 70 years, the situation has become catastrophic since August 5, 2019.
On August 5 the Government of India illegally and unconstitutionally scrapped Article 370 and Article 35A – though changes required approval of the constituent assembly of Jammu & Kashmir for any amendment whatsoever. More critically, this nullifies any legal and constitutional relationship between J&K and India, Article 370 was the only thin legality that temporarily connected J&K to India, pending UN required plebiscite. It is now explicitly an annexation of foreign territory by the Indian state.
Abrogating Article 35A, which restricted people from outside to buy property in J&K, opens the door to the violence of settlement colonies on the most militarized occupied land in the world, while repressing its people's inalienable right of self-determination. Since August 5, 2019, on all forms of media Indian politicians and members of Indian public have been explicitly jubilant about buying land, forming task forces to do the same, and "getting" women from Kashmir..
On the ground, within the Kashmir Valley, there has been a complete lockdown on all communication including landlines, mobile and internet services, television, and radio.  There is no news of more than 1300 Kashmiri activists, intellectuals, members of the civil society, and even children as young as twelve years old, who have been arrested from their homes. Reports are trickling in of deaths of newborns, delivered on the road, as women in labour were unable to reach medical facilities due to complete curfew.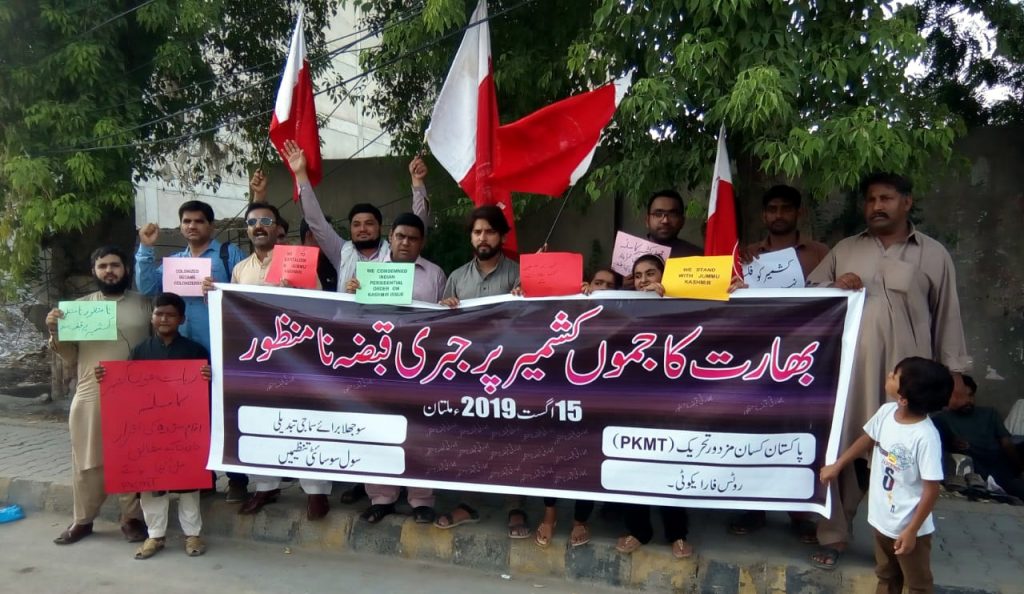 Following are the demands that are being made by people's movements across the world against the imperialist annexation Jammu and Kashmir by the Indian state:
1) Immediately revoke the curfew and its attendant conditions and reinstate communications in and out of Kashmir;
2) Immediately and unconditionally release from detention all Kashmiris who have been arbitrarily detained or arrested under the PSA or any other colonial law;
3) Immediately and unconditionally withdraw all Indian military forces from Indian Occupied Kashmir, sending few neutral forces from the UN to maintain peace until the plebiscites.
4) MOST IMPORTANTLY implement the UN resolutions demanding plebiscites in all of Jammu & Kashmir, including CRITICALLY the right to full independence, and guarantee fundamental freedoms to all.
Released by: Pakistan Kissan Mazdoor Tehreek/ PKMT