Pakistan Kissan Mazdoor Tehreek (PKMT) held its 12th Annual Conference 28, December, 2019 in Jampur, Rajanpur. The theme of the conference was "Corporate Agriculture: Decent Livelihood, Pure Nutritious Food and Environmental Justice Impossible!"
The Annual conference started with the registration of the members from various districts of the country.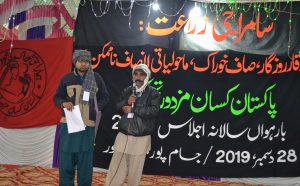 The 12th PKMT General Assembly was kicked off with welcome remarks from the Punjab provincial coordinator Maqsood Ahmed, Rajanpur district coordinator Abdul Ghafaar. A one minute silence was observed in memory of Ghulam Yaseen, PKMT member who had passed away earlier this year.
The program began with a theatre  performance from the PKMT group "PUKKUK".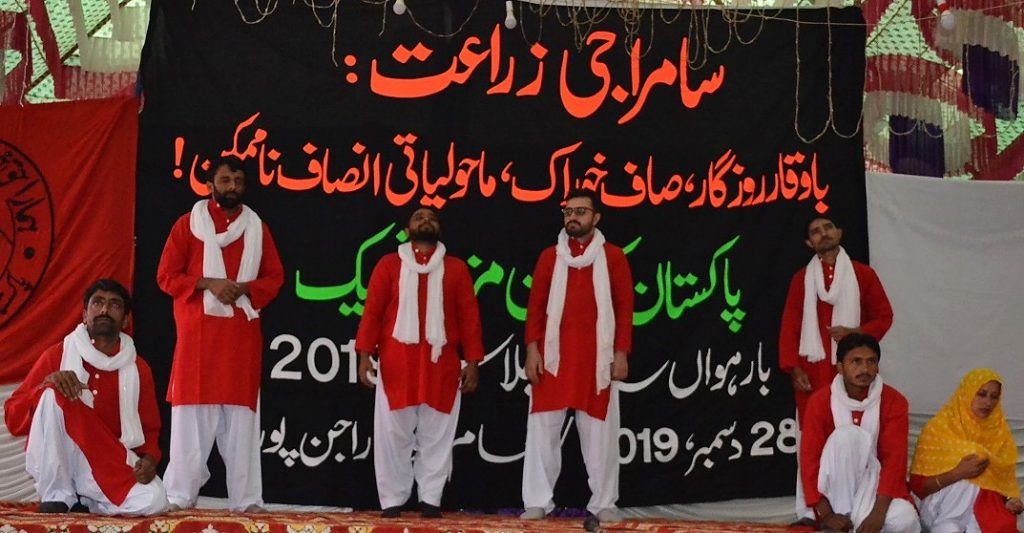 Key Notes were delivered by Azra Talat Sayeed, followed by two different sessions focusing on the debacle of corporate agriculture, its impacts on farmers' livelihood, climate crisis and decreasing access to safe nutritious food. Guest speaker was a trade unionist Mr Junaid Awan, Railway Workers Union.
Khyber Pakhtunkhwa provincial coordinator Mr Fayaz Ahmed provided a detailed run down on PKMT's activities for 2019.
An award giving ceremony was conducted for farmers practicing Sustainable Agriculture. The two farmers who received the PKMT PaidarZarat Award were Mr Bakhtayar Zeb, Lower Dir, Khyber Pakhtunkhwa, and Mr Ali Gohar, Gohar, Sindh. Both were chosen for receiving the award based on a criteria set by the PKMT National Seed Committee.
A session by the name of "Bol K Lab Azad Hain Tere" provided space for issues raised by famers across the country.
A vote of thanks was delivered by the Sindh provincial coordinator followed by the PKMT tarana sung by the members.