Press Release
March 29, 2019
Pakistan Kissan Mazdoor Tehreek (PKMT) and Roots for Equity in collaboration with Asian Peasant Coalition, Pesticide Action Network, Asia Pacific and International Women's Alliance commemorated the International Day of the Landless, which was marked by the slogan "We Will Take Back Our Land, Our Future!" Globally, the Day of the Landless highlights the struggle of the landless farmers for genuine land reforms and food sovereignty, where they are being evicted from lands that had been tilled for many generations by their ancestors. It is in this context that the many protests and demonstrations have been planned in Pakistan, Bangladesh, Sri Lanka, Nepal, India, Mongolia, Cambodia, Malaysia, Thailand, and Indonesia among others Asian countries.
PKMT carried out press conferences at the Peshawar, Multan Press Clubs and a protest rally in Ghotki against the landlessness of farmers, as well as countrywide happenings of land grabs and in the name of foreign investments and development projects.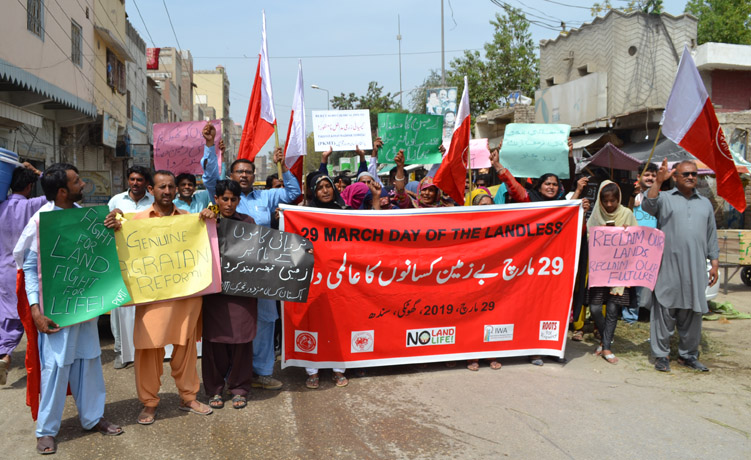 According to the PKMT National Coordinator Altaf Hussain stated that from 2000 till now, transnational corporations worldwide have land grabbed more than 50 million hectares of land through 1,591 agreements. Further, 200 more negotiations are in ongoing for acquiring 20 million hectares. No doubt, rich capitalist countries along with their imperialist institutions such as the World Bank, the IMF and the WTO have wrought changes in policies which has allowed the massive push in land grab, drowning the farmers in debt and deprivation, all methods which give transnational corporations control over production and markets.
According to the Raja Mujeeb, Secretary General Asian Peasant Coalition, imperialist corporate agriculture is here to plunder our lands, take away our livelihood and poison our lands. No doubt, most of the land deals are being carried out to in countries like Pakistan that are rich in natural resources. It is draconian that only 8% of these land deals are exclusively for food production and 60% of this is for export. Further, most of these land deals, around 70%, are reserved for agro-fuel production – industry bound oil seed production of oil palm, jathropa, corn, wheat, and sugar. This push for agro-fuel is fulfilling the needs of the rich capitalist countries. In the past few years, China's One Belt One Road (OBOR) initiative has further accelerated land grab, and China is now second to the US, in the number of concluded transnational land acquisitions. In Africa alone, land acquired by Chinese companies range from 240,000 to 6 million hectares.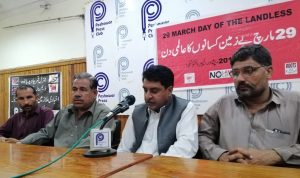 According to the KPK Provincial Coordinator, Fayyaz Ahmad after leasing an additional 1,000 acres of land in Haripur for a special economic zone, and eviction of farmers from their land for building the Northern Bypass, Peshawar, the next target for investors seems to be Palai in Malakand, a green belt famous for its farmlands and orange orchards. The government of KPK is planning to build a cement factory in the area and has imposed Section 4 for acquiring 400 acres of land. The critical importance of this land for the local communities and its fertility can be gauged by government figures which state that Palai has 171,000 fruit trees which are not only a source of livelihood and food security for the local communities but also critical for the environment; all this happening in a country which is in the frontline of vulnerable countries from climate change impacts. Similarly, for the construction of the Swat Expressway precious agricultural land of local farmers has been acquired for pittance, and on top of that farmers are facing delay in payments for the land.
According to PKMT Sindh Provincial Coordinator Ali Nawaz Jalbani, small and landless farmers were facing exploitation and deprivation because of the unjust distribution of land, corporate agriculture, and the imperialist neoliberal policies inflicted on the command of capitalist countries. At the same time, feudalism is not only forcing misery on the landless farmers but the women face further discrimination based on their gender. They are forced to work under scorching heat for harvesting crops such as wheat and cotton; Hindu are forced to bear not only the oppressive feudal mechanisms but also face further discrimination based on religion. According to Mir Babal, a youth PKMT member from Ghotki, various development projects for energy and infrastructure under the China Pakistan Economic Corridor agreement has resulted in land grab in the area for a number of years.
It was pointed out that in Sanghar, a district where the landless facing acute exploitation with a very high percentage of the population suffering from malnutrition, the government under different guises was taking back land that had been distributed to landless farmers in 2004. The much higher percentage of children suffering from malnutrition in this district was proof of the impact of the industrial agricultural production, which takes its toll on impoverished farmer communities. The Sindh government in many districts of the province for the past many decades has been evicting small farmers. On the other hand, farmers have been forcefully evicted from centuries old villages so that big property dealers and investors, who are well known to have acquired land illegally, are given further opportunities for land grabbing.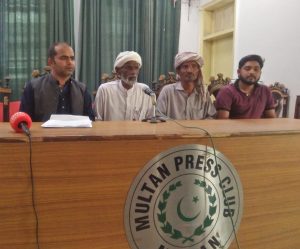 PKMT Provincial Coordinator Maqsood Ahmed stated that the government of Punjab after leasing 6,500 acres of land for growing high yielding seeds to foreign corporation in Punjab has recently adopted a policy for leasing state land to national and foreign corporations. The Punjab government has provided state forestland to the corporate sector for planting commercial forests. In South Punjab, proposals by investors for developing commercial forests on 99,077 acres of land have been approved. On the other hand, the same Punjab government in district Rajanpur, South Punjab is bent on displacing small farmers from an area called Rakh Azmat Wala, where the farmers have lived for more than a century.
PKMT demands that development project across the country including those for special economic zones as well as land lease to investors should be stopped. In addition, the role of international corporate sector in agriculture should be eliminated, the ever-increasing allotment of land to the corporate sector should be stopped and instead just and equitable distribution of land to small and landless farmers should be carried out immediately.
Released by Pakistan Kissan Mazdoor Tehreek/PKMT
News Coverage;
https://www.dawn.com/news/1472729
https://www.thenews.com.pk/print/450888-distribution-of-agri-lands-among-landless-farmers-urged