PRESS RELEASE
The Food and Agriculture Organization (FAO) celebrates the World Food Day on October 16 every year. This year FAOs slogan is "A#ZeroHunger World by 2030 is possible." But across the world, small and landless farmers, labour organizations commemorate the day as "World Hunger Day". Pakistan Kissan Mazdoor Tehreek (PKMT), Roots for Equity, PAN AP, and various organizations have campaigned from October 1-16 to highlight the critical importance of agro-ecology and the important character of youth in promoting agroecology, and have used the theme " Youth on the March: Building Global Community for Agroecology and Food Sovereignty" for the World Hunger Day.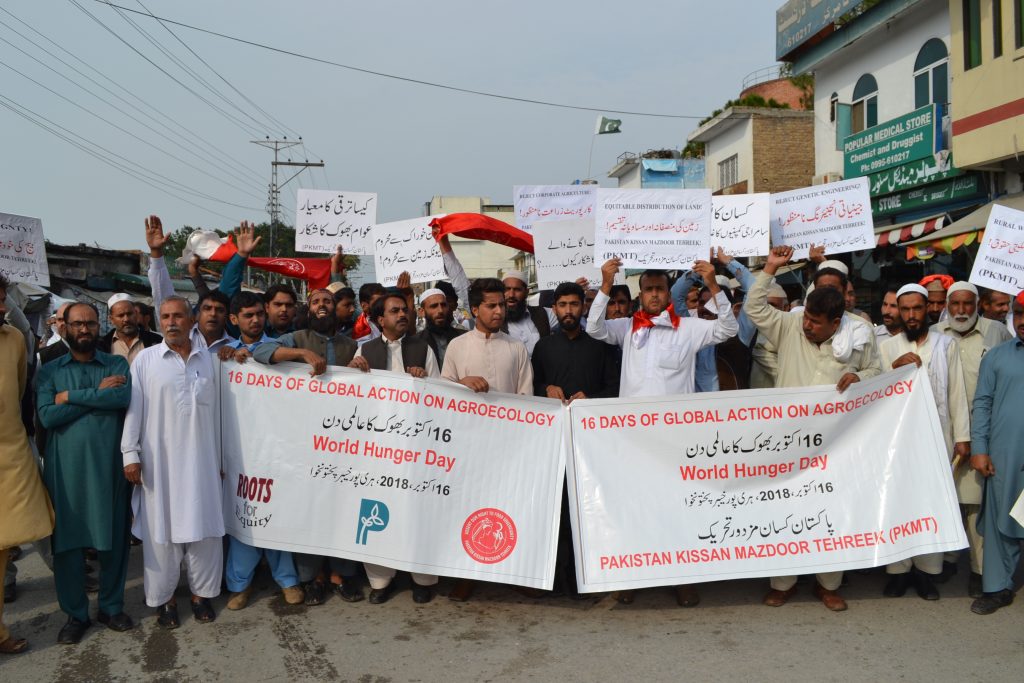 To protest the rising hunger across the globe, and in Pakistan, PKMT and Roots for Equity took out a rally in Haripur, Khyber Pakhtunkwa which included small and landless farmers from many KPK districts.
According to the Altaf Hussain, National Coordinator, PKMT 60% of Pakistani population is facing food insecurity. A very large majority of the population was living under poverty, and this is the basic reason that 80% children are deprived of adequate nutrition, 44% children were suffering from malnourishment. No doubt hunger can be eradicated from Pakistan but in the current state of industrial agricultural production, where huge transnational corporations with their toxic hybrid, genetically engineered technology have got their tentacles in the system, it is NOT possible. These corporations are earning super-profits through the exploitation of small and landless farmers and this is the most critical factor in the escalating hunger, malnutrition and poverty. In Pakistan, in spite of surplus production of wheat and rice, feudalism, corporate agriculture and international trade agreements that such a large majority of the people, especially women and children suffer from hunger. Only by taking away the control of feudal lords, and corporations from our lands, our food systems and markets can eliminate hunger.
Fayaz Ahmed, Provincial Coordinator, KPK stated that the promotion of foreign investments, and an export-oriented economy, and vast infrastructural projects are resulting in the eviction of small and landless farmers; this in the face of the fact that only 11 percent of big landlords own 45% of agricultural land. The expansion of the Hattar Industrial Zone is a living example for which not only small farmers were evicted but even the labor force employed in the industries suffers from very low wages and lack of basic human rights.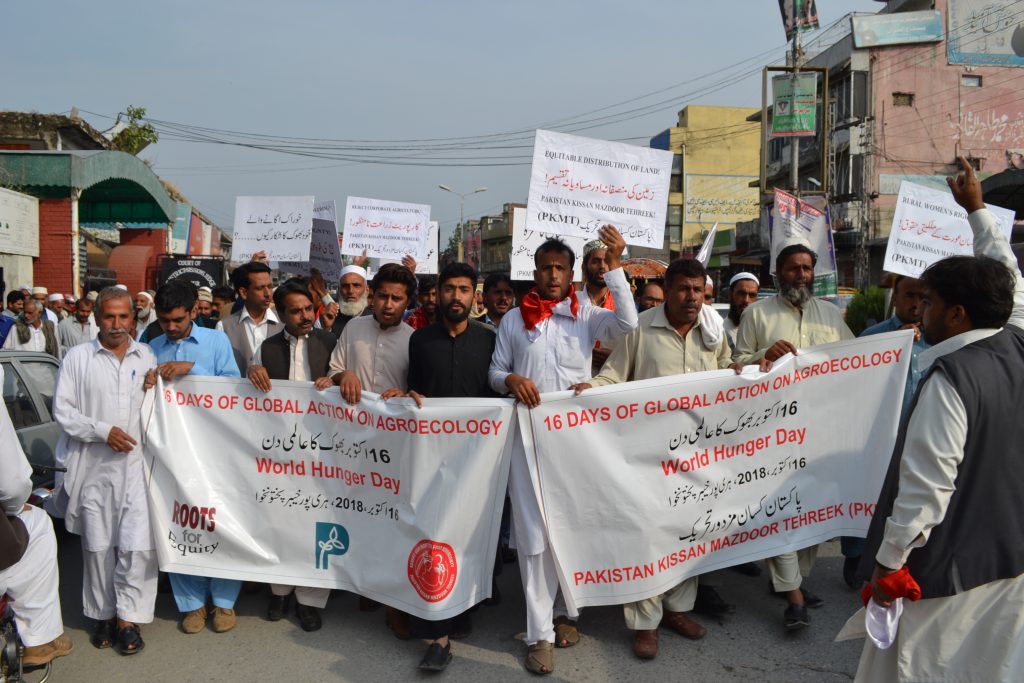 Mohammad Iqbal, District Coordinator Haripur stated that the governments willingness to allow global capitalist powers control over our markets, promotion of unsustainable agriculture practices has resulted in land and food production to be a source of profit-making. All this has not only exacerbated hunger among rural communities but has also caused environmental pollution especially food pollution, and climate change. In order to get rid of poverty, hunger and joblessness, equitable land distribution must be carried out, for attaining food security and food sovereignty the control of corporations, especially agro-chemical corporations must be eliminated. All this is only possible if the farmers including women are central to decision making in rural economy, and of course agroecology is made the basis for healthy, sustainable food production systems. Only these measures will guarantee a sustainable society.
The demands put forward by PKMT and Roots for Equity include.
Released by: Pakistan Kissan Mazdoor Tehreek & Roots for Equity.